Author
I grew up in a small, rural, ultra-conservative, Pennsylvania town. My father was the pastor of the town's only church. His rules were to be obeyed without question. I chaffed against the rules without explanations and the required constant church attendance. I rebelled, not without life-changing consequences. In my early twenties I moved to Upstate New York. The next forty plus years were spent working in the health care industry. During that time, I met and married my husband. We have one son and daughter-in-law and three beautiful granddaughters. In 2012 I retired and in 2017 my husband passed away after many years of pain and suffering. Now I spend my time ballroom dancing, looking for just the right antique, reading, traveling, tending my flowers and plants, and doing pet therapy with my Golden Retrievers.

I can't say I'm an expert on a lot of subjects, but I do know a lot about loneliness, terror, recurring nightmares, despair and desperation from personal experience.
When All Else Fails was berthed out of depression so deep I just wanted to stay in bed 24/7. With age sixty looming, I would look in the mirror and wonder, when did this happen? I don't feel like a old person! I was also diagnosed at that time with a couple of health issues which were treatable, but chronic in nature, and this only added to my depression. My life had not turned out quite like I had hoped, not to mention my frustration with my job at the time. As a coping mechanism, I turned to the one thing that had worked for me since childhood: my extreme imagination. When All Else Fails was in my head in its entirety (along with books two and three) before a word was ever written on paper. The characters in my books have been with me for years as a coping mechanism. Sometimes they are more real to me than real people. That probably makes me sound like a "nut-case." Oh well...
I am also a very "what's fair is fair," and "justice should always prevail," kind of person. In my books, the good prosper, and the wicked meet a very bad end...as it should be. And you don't have to wait until judgment day to see it happen!
Toward the end of writing book one, I began taking ballroom dance lessons. It changed my life for the better. I have always had a dancing spirit, but being a Baptist preacher's daughter, dancing was not allowed. I called the dance studio twice before I had the courage to actually arrange to take lessons. All of a sudden I had friends my age with similar interests, and more importantly, I had a social life. The first time I danced the Fox Trot I felt like Ginger Rogers. The more I danced, the more confident I became. I practiced hard and reached Full Silver level dancing in three years. Now my dance partner and I perform and teach Basic Ballroom for Seniors whenever we have the opportunity. 
I sincerely hope you enjoy reading my books...
And I hope you dance!                                                                                                                        
Elaine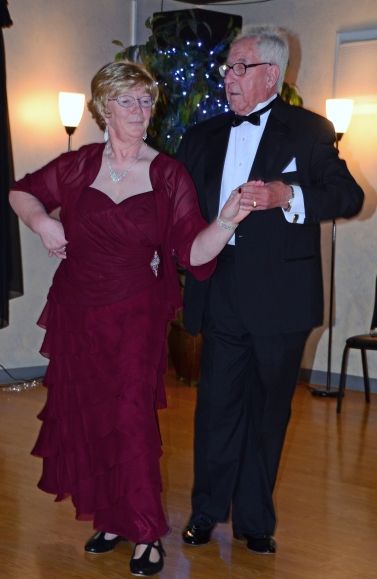 ,